Aikido Test - training сourse app
Aikido Test is a mobile application for the study Aikido. The program will be with you on the way of Aikido from the initial degree of 5kyu to a 1st dan.
The program contains a catalog of titles techniques of Aikido (174) and videos of many techniques. You can choose degree qualification that will be shown in the list of techniques.
The program will test your knowledge of aikido techniques in "Aikido Test" section.
To view the video you do not require an Internet connection. You choose the name of the technique that interests you, and see the reception performance.
The program does not replace a good instructor and your persistent training, but will remember the names of techniques and schemes for their implementation.
More information...
|
Download 5 kyu FREE Version
|
Download 4 kyu Version
|
Download 2 kyu Version
Dachshund sad song app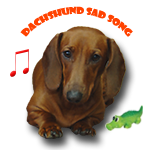 Do you like dogs? Do you have a dog? Do you have two dachshunds? Three?
The fun mobile application "Dachshunds Sad Song" will amuse you and your dog!
Many dogs love to sing our sad songs, sometimes with their hosts.
You can play your sad or merry song with the built dachshund piano.
This program was made not only for love. Connect your phone to a music center and surprise your neighbors with sad song!
More information... | Download FREE Version | Download Piano of Dogs FREE App | Download DONATE Version